Art. 1344
A water-based, low odour, environmentally sound alternative to conventional emulsions. The unique formulation is totally oil and acrylic free, with minimal VOCs.
Range of Use
A durable and washable emulsion that dries to a low sheen finish. Suitable for use on walls and ceilings in higher traffic commercial areas.
Application method: Brush, roller or spray
Touch dry in 1-2 hours. Re-coat after 6-12 hours
Sizes: 5L, 10L
Approx coverage: 10-12 sqm/L
Note: Coverage will depend on substrate and application method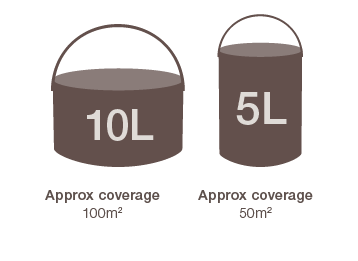 Emulsion Paint 5L Art. No. 10L Art. No.
White 13381 1338
Gardenia 13321 1332
Platinum 13391 1339
Magnolia 13411 1341
Arctic 13331 1333
Verona 13341 1334
Frost 13351 1335
Hessian 13361 1336
Pink Blush 13431 1343
Cream 13371 1337
Dusky Pink 13421 1342
Mushroom 13401 1340